The Last "Successor" company.
In about 1898 Louis-Philippe-Eugène Audemars, (my grandfather) – the eldest son of Louis Audemars-Valette – came to London to try to restore the family fortunes.  His father's successor business – Louis Audemars & Cie – was by then in terminal decline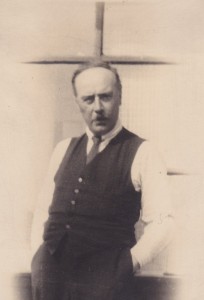 Louis-Philippe had completed a watchmaking apprenticeship although the details are not known.  He was about nine years old at the time of the bankruptcy of the "Ancienne Maison", so at least a part of his training would have been with his father's successor company.
He was about twenty-two years old when he arrived in London with little more than his clothes.  He repaired watches for a M. Baume, later of Baume & Mercier.
The details of the story are not known but it was said that he was obliged by the Baumes to marry Mme Baume's maid (Mina Küffer, a German-Swiss girl from Mürten) because she was expecting his child.  It was also said that after he had done so they sacked them both.
The baby – Louis-Fernand-René – was born in 1901 and went on to a stellar academic career as a teacher of classical languages and ancient history.
A second son (my father, Marcel) was born in 1903. A third died in infancy followed by a girl, Antoinette in 1908 and in 1909 the youngest, my uncle Pierre, was born.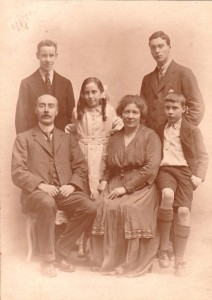 The family lived at first in the East End of London, which at the time was a fairly nasty area.  They later moved to North London but I am not sure where.  By the time I was born (1939) the family had for many years lived in a very nice detached house in Hendon (NW London).   So clearly Louis had done very well indeed.  Like many émigrés he always intended to go back to Le Brassus to live, but although he visited many times, he died in London in the 1950s.
His father does not mention him once in his "Notice Historique" and it was said he never forgave him – not for "having" to get married, but because it was to a German-Swiss girl.  But whatever the reason there was evidently discord between them.
We do not know exactly when he set up the fourth, and last, "successor" company, Louis Audemars & Co, in London but have always assumed it was before the First World War (he was about 38 in 1914).
That assumption was recently (July 2013) confirmed when Mr David Boettcher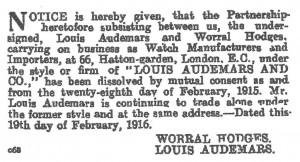 sent me an extract from the London Gazette recording the (apparently amicable) dissolution on 28th February 1915 of a partnership between Louis and a Mr Worral Hodges, which had been trading as Louis Audemars & Co.,  at 66 Hatton Garden – the London centre of the watch and jewellery trades.  The Gazette records that Louis would continue trading alone under that title and at the same address.  The business continued there until the building was destroyed in the 1940s blitz on London.
In the course of his researches into the early days of the Patek Philippe company Mr Philip Poniz discovered this advertisement, dated 1909, showing Louis Audemars as their London agent: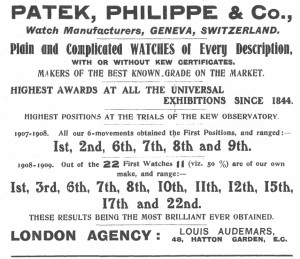 He bought watches and movements from a number of Swiss factories and sold them to British customers, mostly in London.  As gold imports were restricted he had gold cases made in London (mostly by the City Watch Case Company) and he, and later my father, finished and fitted Swiss movements into them.  Dials were painted by Mr Waters of Clerkenwell.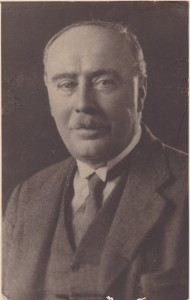 Watch dials were either branded with the customers' names – Mappin & Webb, Garrard, J W Benson &c – or with the house brand "Audemars" (no "Louis").  By that time all their trade was in wristwatches not pocket watches. Their products – especially later ones from the 1940s and 1950s can usually be distinguished by the brand looking like this:

While of no great value to collectors, their watches do not surface very often – especially not their ladies' gold watches, because many were melted down as they went out of fashion.
- If anyone out there has a gold watch with that brand, I would like to know please.
Watches branded with customer's names, or with blank dials, often have "Audemars" engraved on one of the bridges, or on the plate.  "Audemars" was also sometimes  painted at the top of the dial where it was concealed by the bezel.  Some pre-war ladies' watches have the brand "Daphne" engraved on the movement. (No, I have no idea why – unless she was one of my father's girlfriends…….)
Their makers' marks are usually punched inside the London-made gold cases, near the hall marks  – "MA" in a shield for my father and "LA", in either an oblong field or plain, for my grandfather.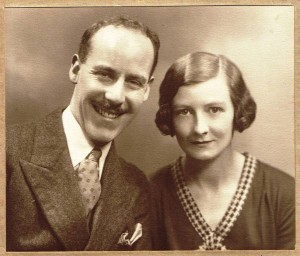 Another notice in the London Gazette records the dissolution of the partnership between Louis and Marcel in December 1953 when Louis had already effectively retired.  After my grandfather's death in the mid-fifties, my father ran the business from our house in Hendon, but his own increasingly poor health meant he was unable to battle the adverse market conditions which followed the lifting of watch import quotas.  By the time he died in 1968 the business was effectively defunct.
The London Gazette notice of dissolution of 22nd April 1969, marked the end of the Louis Audemars name and of 158 years of watchmaking history.