If we can establish that a number for a particular watch or movement appears in one or more of the ledgers we can e-mail (free of charge) the basic information.
If you wish to order hard copies of Ledger entries (for which we make a charge), with the original description of the watch or movement as it appears in the records, please go to the Contact page and send us a message with the number and the best, and most detailed, available description of your watch or movement.  Remember to include your e-mail address.
We will then send you a quotation for the costs of the Ledger entry(ies), and for a Certificate (see link below).
Here are some examples of typical certified copies from the stock books and the summary of sales.
Ledger 3 entry for Watch no. 12112 (Click image  to zoom)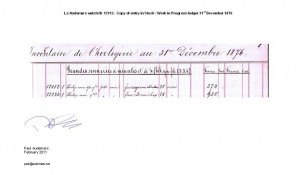 Ledger 4 entry for Watch no. 12112 (Click image  to zoom)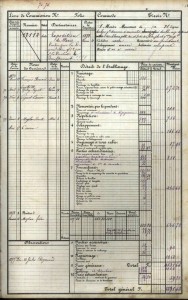 - and this is a typical page from the register of superior watches (Link) for the same watch.

- a full size copy measures 30cm x 46cm or ca. 12" x 18"   (Click image  to zoom)
No 12112 also appears in the list of important watches compiled by Louis Audemars-Valette in his 1922 memoir (see The Story of Ls. Audemars & Cie):
Back to top       Serial numbers        Certificates         Contact (and orders)